Stay Connected With The
Keystone Mascots
Our Characters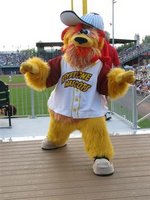 Boomer the Lion
Boomer the Lion is top cat here at Keystone Mascots. He's been making fans giggle with his electric personality since 2004!

When Boomer isn't hanging out with his fellow furry friends at the ballpark or other events he can be found getting the crowds pumped up for the Lancaster Lightning.

Boomer also helped bring back the legendary Harrisburg Heat professional arena soccer team in 2013 and continues to be a fan favorite at attractions that desire a lion-dog-thingie that he is.

You can also find Boomer's antics on Facebook.