Stay Connected With The
Keystone Mascots
Our Characters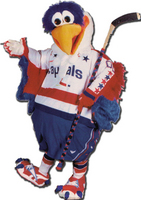 Winger the Eagle
Winger the Eagle was the first mascot for the Washington Capitals.

From 1993-1995 he rallied the Red, White and Blue fans until the team introduced a new logo and Winger handed the reins to his brother Slapshot, who has become one of the most dedicated team mascots in NHL history.

During his lean years Winger worked as a recruiting agent for mascots and finally got the call to return to the Caps in 2010 for Turn Back the Clock Night.

Winger is an avid supporter of the Capitals' alumni as well as sportsmanship programs throughout the Central Pennsylvania region.

He is a perfect addition to any event especially those that have a patriotic or hockey theme to them.